Acquisition of a new digital press: the Ricoh Pro C7100X
The Ricoh Pro C7100X is a 5-color digital production press.
Indeed, in addition to the traditional CMYK, we can customize your documents with white ink or clear varnish, or both.
The prints in white ink are very original and give interesting results as you can see in the pictures below.
White ink and CMYK printing on metallic paper
                                                                                                     White ink printing on black paper
                                                                                                       White ink prining on Kraft paper
The Ricoh Pro C7100X is ideal for printings with high added value. It allows to create unique products: catalogs, postcards, annual reports, business cards, invitation cards, posters …
It allows to print on special media: kraft paper, metallic paper, plastics, textured media, synthetic supports, dark substates, and much more.
It offers the possibility to print supports up to 70 x 33cm, and allows print works that should normally be printed in offset to be printed in digital.
The printing quality it offers is similar to offset printing, which reduces costs on small prints runs without losing printing quality.
It supports paper weight up to 360gsm.
Its high level of productivity allows us to respond to your most urgent requests.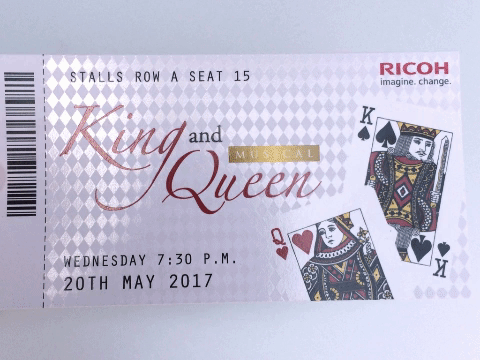 At PCG, we are constantly looking for solutions to improve our products and services and offer you the best quality for original prints, delivered as quickly as possible.